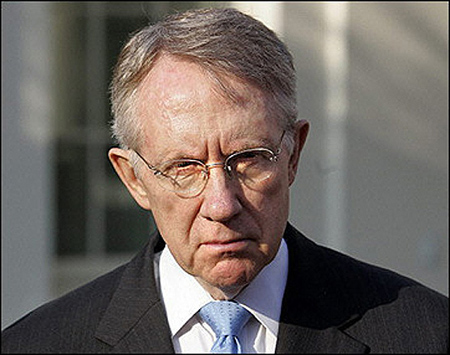 The narrative in the media is that House Republicans will take a majority of the blame from voters for a government shutdown, which talking heads and pundits say is an example of their unwillingness to work with President Barack Obama.
But new Gallup poll shows that Senate Majority Leader Harry Reid is Capitol Hill's most unpopular leader, surpassing House Speaker John Boehner (R-OH) and House Minority Leader Nancy Pelosi (D-CA), the latter of whom previously took the dishonor.
According to the poll, which was conducted between September 5-8, only 33% of American adults approve of Reid, while 53% disapprove, putting his approval rating underwater by 20 points.
Boehner doesn't come out much better, at 37/54 (-17), while Pelosi is at 39/51 (-12). Senate Minority Leader Mitch McConnell (R-KY), who will face a tough fight for re-election next year, is the only congressional leader who has a disapproval rating under 50%, though he's still underwater, at 35/47 (-12).
The poll come as Congress faces high-priority issues, including passing a Continuing Resolution (CR) to fund the federal government and raising the debt ceiling. The House passed a CR last week that defunded ObamaCare, President Barack Obama's top domestic achievement.